New Food Safety Rules for Imports: EU Focuses on Prevention, Record of Compliance
Posted: Monday, March 11, 2019 by Global Food Safety Resource
By Cesare Varallo
First in a two-part series
In a world of growing complexity and fast-moving international trade, ensuring the safety of food is becoming a daunting task for the controlling authorities, especially when it comes to enforcing domestic food safety requirements on imported food. Indeed, while trade is expanding, the amount of resources available to most inspection bodies is shrinking, and this trend is definitely harming the effectiveness of surveillance systems.
Data gathered over the years of my work with controlling bodies confirmed for me that in the United States, no more than 1-2% of incoming food is inspected, while in the European Union (EU), official speeches from EU delegates at a number of conferences have put that figure closer to 3-4%. Globally, experts agree that an average of no more than 1-1.5% of the food traded is inspected at a border post. The controls may be stricter in internal markets, but it is clear that controlling bodies cannot constantly oversee hundreds of thousands of companies; and, although in the EU the annual food recall count remains steady, in the USA it is clearly on the rise.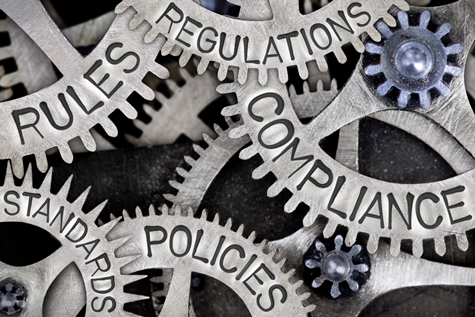 What's more, in January 2019 the European Court of Auditors (ECA) published a report showing that the EU official controls system related to chemical hazards is over-stretched, and it recommended to the EU Commission that there be improvements in the complementarity of private and public control systems.
Official Regulation Controls in the EU
To address such challenges, and many more besides, the European Union (EU) recently released the new Official Controls Regulation (EU) 2017/625, which includes rules for official controls and other official activities performed to ensure the application of:
• food and feed law
• rules on animal health and welfare
• plant health and plant protection products (Official Controls Regulation – OCR)
The Regulation will enter gradually into force starting December 14th 2019, and will strengthen a preventive approach to the issue.
The new Regulation will introduce a more harmonized and coherent approach along the entire agri-food chain. It stipulates that competent authorities need to take into account an operator's past record of compliance and the reliability of the operator's own checks when planning their controls, taking care to include those performed by the operator or performed by a third party at the operator's request, as in the case of private quality assurance schemes.
This provision has not yet defined implementing acts.
Official Regulation Controls
With the new regulations, it will remain possible for competent authorities to delegate official control tasks to other controlling bodies (even private legal entities), provided they have the necessary qualifications, and that an effective auditing system is in place: this is what actually happens now in the organic sector in the EU, but there are mixed feelings about its effectiveness as a model. If on one side the controlling bodies guarantee a stricter grip on organic producers, on the other the model has largely failed to prevent widespread frauds in the sector, most likely because of insufficient cooperation between controlling bodies and the competent authorities.
The new regulation also establishes an integrated approach to import controls by eliminating the current fragmentation of requirements and templates for sanitary certificates. Common rules will apply to controls carried out at borders on animals, products of animal origin, plants and other products, and goods that must be checked before they enter the EU. The import control system will be more risk-based and targeted, taking into account past non-compliances. Therefore, it will be less burdensome for competent authorities and businesses with clean records.
Stay tuned for Part Two of this blog series for a discussion of how Public-Private Partnerships fit into the regulatory matrix.
About the Author
Cesare Varallo is an Italian-based speaker, author and food lawyer who advises clients internationally on food safety, food labeling and food regulatory issues through his company, foodlawlatest.com. His work at the intersection of science, law, business, and social studies, builds bridges between different cultures, stakeholders and backgrounds. Partnerships with technical experts and other international advisors allow him to offer a multidisciplinary and multi-jurisdictional service that assists clients in 60 countries. Cesare teaches food law at several Universities, including LUISS in Rome, Alma Mater in Bologna and MSU in the USA.

Mouse Over To Share