Waterless Process Decontaminates and Extends Shelf Life of Produce
By Paul Moyer
A few years ago, a Listeria outbreak linked to caramel apples triggered considerable concern in North America over the challenges of keeping produce safe for consumers. Although Moyers Apple Products wasn't involved in the outbreak, we began developing a waterless process to clean fresh fruits and vegetables, and our efforts recently earned us the International Association for Food Protection's  Food Safety Innovation Award (IAFP).
Post-harvest washing—which is the standard practice in the field—offers limited and unpredictable decontamination efficacy. So, we set out to ask, "What if we could find another way to get rid of virtually all contaminants, bacteria, pathogens and mold on food?"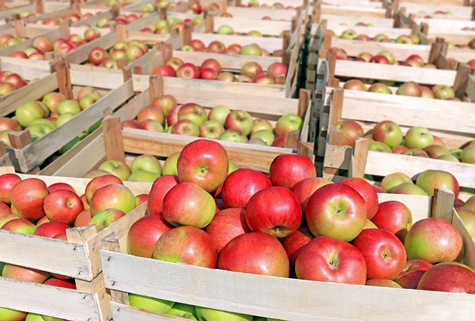 Many people don't realize that washing with water is only 50% effective. The new process, Clēan Verification, uses a combination of ultraviolet light, vaporized hydrogen peroxide, and ozone gas, and it was tested and validated by the Food Science Department at the University of Guelph, Canada's leading agri-business school. It was found to be 99.9% effective.
Process to Clean Fresh Produce
When strict operating procedures are followed, the process also increases shelf life by up to 25%.
Dr. Keith Warriner, a University of Guelph food scientist—and one of Canada's top authorities in the field—says this process takes cleaning to the "microbiological level."
"Finally, there is a scientifically validated alternative to washing," Dr. Warriner said. "I think of Clēan Verification as a firewall between the field and the dinner plate."
The ozone treatment CleanWorks developed inactivates microbes (including pathogens) on the surface and subsurface of fresh produce. Ozone is effective and consistent and allows for continuous monitoring of critical limits.
Decontamination with Ozone
The process works like this: produce is introduced into the chamber in field containers and then ozone is generated and forced through the chamber with even distribution. Critical variables are controlled during decontamination, such as ozone, airflow, humidity, time, and temperature. The process can decontaminate up to 50,000 lbs of produce per hour and the machine used in the process can be customized to work with existing production lines and workflow; it has the capacity to treat all kinds of produce and the equipment requires minimal operator intervention.
When complete, the produce is ready for further processing, packaging or shipment to the customer.
This represents a paradigm shift in how food products are cleaned, and we're honoured by the IAFP award. Innovation in any field is challenging; in the world of food safety, it also carries the added burden of ensuring consumer health is protected.
About the Author
Paul Moyer is Co-owner of Clēan Works, a company that has invented an award-winning process to clean fresh produce. He is also founder of Moyers Apple Products in the Niagara Region of Southern Ontario, Canada, and his family has been farming in the area since 1799. Paul has a Bachelor of Science degree in Economics and Marketing from Auburn University in the U.S., and studied Microbiology and Economics at Alfred State College, State University of New York College of Technology.

Mouse Over To Share