Benefits Abound With A Solid Food Safety Culture
By Brita Ball
Food safety issues have been found where no one would have thought to look. Remember the Listeria outbreak in candy apples? What's more, current outbreaks can be traced to older food safety issues that were not completely solved, making food safety vigilance even more important now than ever. While our ability to track down and eliminate food safety problems is improving with advances in pathogen detection and genetic matching, to effectively reduce business risk, proactive companies are making food safety a top priority by focusing on food safety culture.
It is well-known that management commitment to food safety is needed for food safety culture to improve. Yet research has shown that work unit commitment to food safety is a much better determinant of food safety behavior. So, it's important for management to recognize the need for—and benefit of—having a "bottom-up" approach to improving food safety.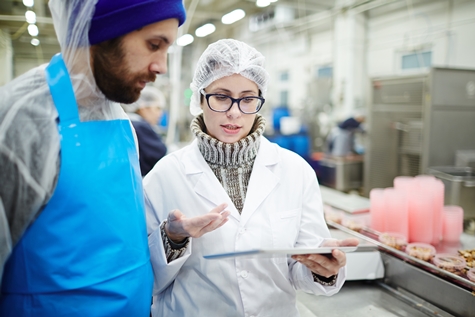 This type of approach is said to be in effect when employees are engaged and want to do the right things for food safety. Here are three factors that can improve employee engagement:
Meaningfulness
When people believe the work they do is important they gain a sense of meaning from it. Importance can arise when tasks have elements of challenge or creativity, for example, or when their roles help people feel they are creating value or contributing to something larger than the job at hand.
Helping employees connect their tasks with keeping consumers safe, and helping them see how their roles support the company mission, vision and values can foster meaningfulness.
Psychological safety
When people feel supported and trust others in their work groups, they will be more willing to communicate openly and they will be better able to focus their energies on their work. Supportive processes and management styles can enable positive work behaviours.
Ensuring supervisors are trained, and that their actions support trust and positive group dynamics can increase the likelihood of frontline personnel sharing information that helps improve food safety practices. Supervisors who belittle or yell at employees can have the opposite effect.
Ability
When people have the skills, knowledge and resources to do their jobs effectively, they can feel readily able to fulfill their duties and they have the capacity to be engaged in their work.
Providing people with adequate food safety training, tools and time gives them the ability to focus on food safety while doing their jobs.
Benefits of Employee Engagement
Embedding food safety from the ground up by fostering engagement can improve more than just food safety compliance. Employees who feel valued are likely to give extra effort in other areas. This can reduce occupational safety issues, improve job performance and productivity, and contribute to stronger food safety and business success.
About the Author
Brita Ball, PhD, CTDP, supports food businesses wanting to improve their culture of food safety, training and bottom line. She is a food safety and training specialist, principal consultant at Brita Ball & Associates, Chair of the Food Safety Education professional development group for the International Association for Food Protection, and Faculty Advisor for students in Michigan State University's online MS in food safety. Brita is a regular contributor and an Industry Advisor to Global Food Safety Resource.

Mouse Over To Share