Drive out Recall Risk with Food Safety Ownership
By Jeff Hall
The North American produce industry has seen more than its share of recalls and outbreaks over the last few years. Bagged salads, spinach, melons, caramel apples and others have grabbed headlines, and this occasionally shines an unduly negative light on the industry. Produce sales continue to grow, however, and governments increasingly encourage consumers to consume more fresh fruit and vegetables. What's more, the varieties available in the market are always expanding. One of the most popular and increasingly innovative areas of the business is the prepared produce category. Unfortunately, this category of products has also been implicated in a number of foodborne illness events.
Prepared produce includes everything from pre-washed salad kits, pre-cut fruit or vegetable platters and single-serve fruit cups, to handy snack packs of vegetables. If it's designed for ease of use, less preparation time, or to be ready-to-eat, it's likely a prepackaged produce item. Unlike whole produce, or that which requires further preparation, prepackaged items will have gone through a number of batching, washing, cutting and packaging steps. Whole produce, depending on the commodity, is often packed right in the field or in a packing shed in close proximity to the growing area. It's expected that consumers, retailers or food service establishments will take on the task of preparing the produce before serving or cooking.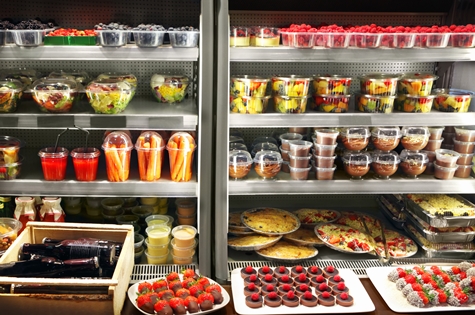 The additional steps required for prepackaged products introduces an element of increased risk to the items if proper mitigation strategies are not put in place. Batching leafy greens from multiple farms has the potential to cross-contaminate the entire batch and any downstream processing activities. Dicing of melons, or any fruit with a skin, introduces the risk that pathogens may be transported into the edible portions of the fruit and may also contaminate the blades and equipment. Water is the perfect transport medium for bacteria, so operators must control it throughout a facility or risk widespread contamination.
And of course, there's the fact that humans have an evolutionary predisposition to spreading our bacteria, viruses and whatever else we are carrying around. Improper food handling, short cutting cleaning and sanitation procedures, coming to work sick and innumerable other human activities will readily contaminate and spread that contamination throughout a processing facility.
Procedures for Prevention
The entire supply chain, from farm to fork, must always be looking to improve the procedures used when growing, processing, packaging, transporting, selling, and finally, preparing foods for consumption. Good agricultural practices, facility food safety programs, targeted audit programs (internal and third party), strong regulatory regimes and corporate commitment are the keys to reducing the risk throughout the chain.
Corporate commitment is the most important of all the factors which influence risk. Organizations that "walk the talk" on food safety will expend the resources, both financial and human, to ensure their programs are tailored to their environments, facilities, products and employees. This doesn't necessarily mean the Ferrari of food safety programs is needed. Sometimes a nice comfortable family sedan is what's required. The key is to ensure the program runs smoothly, gets regular maintenance and when something does go wrong, like getting a flat tire, that you have the resources, knowledge and tools to fix the issue and learn from it.
It's critical that food safety throughout an organization is supported by committed senior management and reinforced through regular employee training. Only in this way can we reduce the risks that arise when producing a fresh, prepackaged and ready-to-eat fruit or vegetable consumer product.
About the Author  
Jeff Hall is a Food Safety Specialist with the Canadian Produce Marketing Association (CPMA). He joined CPMA in January 2017 and is responsible for all files pertaining to food safety and related issues with particular emphasis on CPMA member support, government and regulatory interaction, collaboration with like-minded industry associations and advocacy of food safety within the produce industry. He has held various food safety, quality assurance and regulatory positions over the years with SGS Canada, Shoppers Drug Mart and Metro Ontario. For further information, please see:

Mouse Over To Share