GFSI 2017 Houston Conference Highlights
By Sarah Malenich
Even though "Houston" was the first word spoken from the moon back in 1970, at this year's Global Food Safety Conference that was held in Houston Texas, no one was using the famous phrase "Houston we have a problem!" to describe today's food safety industry.
The Global Food Safety Conference brought together more than 1,000 attendees from over 61 countries and regions around the world, to explore together the conference's main theme of "Trust, Transparency and Technology." Stakeholders from around the world—and across the supply chain—shared their stories of growth through GFSI, and there was plenty of discussion around how to leverage the industry's investment in private certification for public policy results.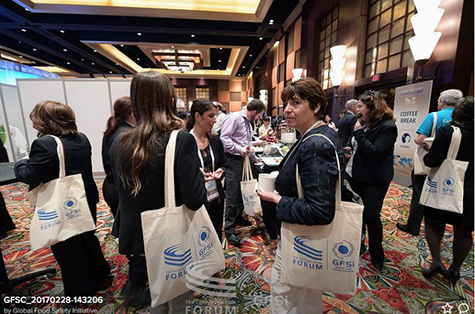 The big reveal at the conference was the newest set of GFSI benchmarking documents, as well as the announcement that GFSI Benchmarked Schemes will now be called and referred to as Certification Program Officers or CPO's.
With the release of the newest set of GFSI benchmarking documents, SQFI was able to incorporate those requirements into our SQF Code, Edition 8 that was released on March 31st. Other areas of revisions for Edition 8 are:
• Emphasis on Senior Management
• Greater Environmental Controls
• More Robust Approved Supplier Programs
• New Food Fraud Requirement
• Clearer Allergen Requirements
• FSMA Implementation
The SQF Code, Edition 8 replaces the SQF Code, Edition 7.2, and is valid for all certification and surveillance audits conducted after January 2, 2018. Those sites with an existing SQF certification will be required to upgrade their processes and procedures to meet the requirements outlined in Edition 8 by that date.
The 2017 Global Food Safety Conference was also the inaugural year for the GFSI Award achievement series. Champion Petfoods was the recipient of the award this year and is proudly an SQF Certified Supplier! Champion Petfoods utilized their involvement with the GFSI Global Markets Programme and took their food safety systems to the next level to successfully achieve SQF Level 2 Certification. Congratulations Champion Petfoods!
Participating in the Global Food Safety Conference is something SQFI has done for over 8 years. Exhibiting and attending the conference gives us a chance to connect with suppliers, buyers, solution providers and government organizations who share with us the dedicated efforts of bringing safe and quality foods to consumers.
---
About the Author
Sarah Malenich is the Director of Sales and Marketing at the Safe Quality Food Institute, a role focused on promoting and elevating all SQFI programs. Malenich is responsible for leading and directing the development and implementation of strategic sales, marketing and business development plans and initiatives to uphold SQFI's mission to be the single most trusted source for global food safety and quality certification.

Mouse Over To Share