Reach new Customers by Certifying your Plant-based Products
By Paula Parejo 
When asked what food safety trends are up and coming in 2020, plant-based products are on the rise. Consumers are increasingly interested in eating a plant-based diet, as is evident by a surge in sales of these types of products internationally. According to a report by Health Focus International in 2018, 17% of consumers in the U.S. aged 15 to 70 to eat a predominately plant-based, while 60% report to be cutting back on meat-based products. This style is far from a fad, it's a growing trend that is projected to increase in popularity in 2020.
What is Plant-based?
Plant-based refers to products that are free from animal-derived ingredients such as the following: additives, carriers, flavorings, enzymes, processing aids and others (or work towards being free of those ingredients). With market trends driving the food industry, brand-owners may be interested in developing new products to meet the demand. This means that as a supplier, you may be required to provide a site that honour's brand claims of plant-based.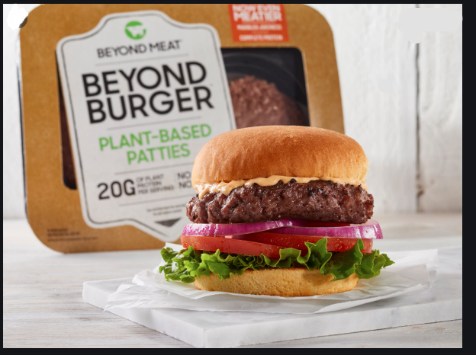 Beyond Beef Burger: Image Courtesy of The National Post
Food Safety Concerns before Jumping on the Plant-based Train
1) Understand the Plant-based trademark
Consumers care about what is in their food and read labels carefully. Considering that we are in an information era, consumers research a product's safety and authenticity. The Plant-based trademark is a symbol that is placed on packaged goods that are free from animal ingredients. The symbol helps consumers recognize that the item was produced by a site (factory) that operates strict controls to ensure that plant-based products are in fact free from animal ingredients and that the site has successfully undergone a Plant-based Certification audit. Trademarks are specific to the site as they are audited for plant-based production practices. As a supplier you can undergo a Plant-based certification, to allow your customers (i.e. brand owners) to put that trademark on their packaging. This gives you a competitive advantage and can help your customers build trust with their consumers.
2) Qualify with a Plant-based certification
While your company is likely already certified under the GFSI benchmarked Food Standard, you may want to consider the Plant-based certification, as the two are quite different. Food safety certifications ensure that the product is safe, but do not necessarily cover quality or verify assertions, whereas a Plant-based certification would ensure no contamination of animal products of any kind. The negative impact of failing to ensure the integrity of a plant-based claim could be catastrophic to a brand. Here is an example: A social media influencer who passionately eats plant-based decides to evaluate a packaged good that claims to be 100% plant-based. Later, the influencer discovers that there is vitamin D derived from animals in the product and uses their platform to put you on their 'not plant-based safe' list. This could affect your brand reputation, potentially tarnishing it to millions of followers who may engage with this post or video. A certification would ensure that these standards have been met and consumers, in turn, have peace of mind in choosing this product.
3) Educate your customers about how plant-based friendly products are produced
As a supplier, connect with your customers and teach them the benefits of plant-based dedicated production. Educate your clients on the importance of the trademark. Teach them ways to spot plant-based vs. not plant-based ingredients. For example, the Plant-based Standard in Appendix 4 lists ingredients such as E904 Shellac, a common coating used in candy that derives from an animal. Your consumers will thank you when they know that their favorite jellybeans are not plant-based. You can promote your site through education and develop a deeper connection with your customers so they can feel confident in their choices.
Plant-based diets are a big consumer trend with a big mission behind it. To learn more information on producing plant-based products, download a free electronic Plant-based Standard.
About the Author
Paula Parejo graduated from the University of Waterloo with an Honours Arts Psychology degree, Paula has transformed her career in the world of marketing and food safety. Paula is the BRCGS Marketing Strategist of the Americas region. Taking on marketing activities and partnerships, Paula helps create content and avenues to communicate with Food Safety professionals, building the BRCGS brand in North America.

Mouse Over To Share