Do You Need to Strengthen Your Food Safety Culture? Ask These Four Questions First
By Neil Coole
A strong food safety culture has been sought by food manufacturers, processors and packers around the world for a number of years now, and it continues to be discussed and debated at board level within these organisations without a clear path as to how best to achieve it.  Fundamentally, organizations are looking to improve their bottom line, reduce the number of product recalls and improve their brand and reputation in an increasingly competitive and demanding industry.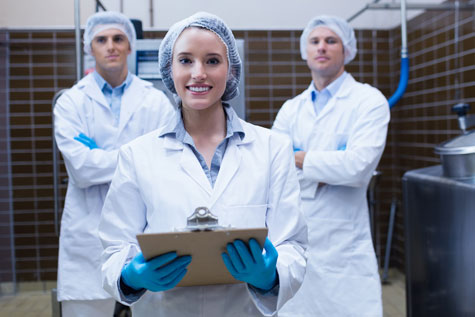 Protecting Your Brand
The challenges they face directly impact their brand and reputation: how can they protect it moving forward? The world of food safety is constantly evolving and addressing new challenges, risks and threats.  Consumers have instant access to information today, and a food manufacturer's supply chain can be affected globally in a matter of minutes with the use of email and social media. This presents another massive issue for those in the board room looking to better protect their brand and mitigate food safety risks throughout their business and supply chains.
So the questions every food manufacturer, processor and packer is asking today are: "What actually defines an effective food safety culture?  How can I begin to build and implement a food safety culture?  Where do I start?"
1. What is Your Business Purpose?
A good place for any organization to start is to first look at your core fundamentals. You need to ask what your purpose is.  Do you have a clear vision and does it reflect your purpose?  Have you got an effective strategy to deliver against your vision?  What are your values, and how are they communicated?  What targets do you have in place to deliver against your vision, and how do you measure success?
2. How do Your People Fit In?
When building a food safety culture, an organization's purpose essentially forms its foundation. Next you need to look at the most important part of food safety culture: your people.  Look at how your staff are managed: are they empowered to make positive changes to your business?  Are there any incentive programs in place to reward staff for meeting food safety targets?  Are they encouraged to work as a team, and do they have departmental champions to support their food safety culture?  How are they currently trained, and does the business know if it works?  When was the last time the business reviewed its staff training requirements and how the training was delivered, and by whom?
3. Are Your Food Safety Processes Effective?
Your purpose and your people form the foundation and building blocks of the organizational food safety culture, so the next area to focus on represents the mortar of the food safety culture: food safety processes.  Do your staff understand the processes and controls that are currently in place, and, more importantly, do they work?  Are the processes effectively coordinated?  Is there a level of consistency throughout the organization?  Do the food safety systems work?
4. Is Your Organization Proactive?
The final element to building an effective food safety culture relates to how proactive your organization's food safety culture is.  Is there an awareness of food safety throughout the organization?  Are your staff able to anticipate a threat or risk to your food safety?  Do they have the foresight needed to protect your product, customer and brand?  Does your organization learn from its mistakes and continually improve? What protocols do you have in place to encourage best practices from your staff?  How does your organization innovate to improve your food safety culture?  What role does your staff play?
Building a strong food safety culture is a huge undertaking and requires enormous dedication at all levels of the organization. But without it, your business can't hope to improve food safety performance. Your consumers are watching – and your brand reputation and bottom line hang in the balance.
---
About the Author
Neil Coole is Partner Channel Manager for BRC Global Standards and he has more than twelve years' experience in the standards and certification industry, having helped organizations with the training and implementation of management systems and standards all over the world.  Neil joined BRC Global Standards in 2015, and has been working with their certification body partners to increase the number of BRC certificated sites globally.  Neil is also focussed on supporting his partners and BRC Global Standards customers with the development and implementation of food safety culture assessments moving forward.

Mouse Over To Share