ROI: is Food Safety Certification Worth the Investment?
By Joan Martin
ROI = Gains – Costs/ Costs, expressed as percent.
Does this simple formula make sense in the world of food safety? Some would say that food safety cannot be measured in the same way we look at profitability in a business and that it should not be part of the equation. Food withdrawals, recalls and lawsuits from people falling ill all cost the food industry billions of dollars annually. Why, then, do so many companies struggle with spending money in areas that directly affect food safety? And why would anyone resist the move to certification, despite the costs involved?
The fact of the matter is that food safety certification may be necessary to satisfy a customer request and gain new business. In the food supply chain, whether we're looking at processing, packaging, warehousing or distribution, there is big credibility that accrues through certification under one of the recognized global food safety standards. Embracing the process both short term and long term can provide positive returns throughout the business.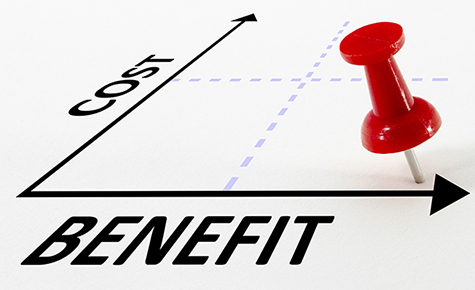 So what is the true cost of food safety certification and can there be a measurable return on investment?
Tweaking Programs
For some operations, the preparation for obtaining food safety certification is minor and it involves tweaking existing programs. However for others that are not typical food manufacturers, this can be a costly venture. Whether a company operates "for profit" or "not for profit," it will require a number of resources to complete the required tasks. Resources cost money!
Operational costs involve much more than a simple equation. Financial experts take into account many factors, including: direct and indirect costs (fixed and variable), factory overhead, capital, depreciation—along with methods for payback—internal rate of return and net present value.
Here are a few items that affect cost when you are going for a food safety certification;
•  Systems and technology for managing information and reporting
•  Human resources with dedicated teams, consultants, specialists, external contractors and service providers
•  Materials and supplies
•  Equipment upgrades and operational improvements
•  Structural and environmental improvements
What About the Benefits?
How do we factor in the benefits? This is where it becomes difficult to tie the numbers to the equation. Gains may be measured in different ways: boosted earnings through customer sales, increased market share and earned value as it aligns with this specific program.
Tangible gains from food safety certification may be expressed through:
• A skilled workforce resulting in fewer mistakes and lower employee turnover
• Improved quality through reduced rework, scrap and returns
• Efficient processes with less down-time, quicker change-overs
• Customer loyalty with increased and consistent purchases of your products and services
Return on investment can provide a simple summation for bottom-line results, however the ongoing costs of sustaining a program and staying current are also significant considerations in the process. But being certified to an international standard gives your customers and the end users of your product the peace of mind that comes from knowing you are doing everything possible to make food safe for all. Perhaps the question to ask is, "Are you ready to take that step?"
About the Author
Joan Martino is CEO of Quality Supply Chain, a company that provides simplified solutions to address regulatory compliance, supply chain initiatives and audit requirements for multiple industry sectors including food manufacturers, hospitality, retail, warehousing, packaging and equipment suppliers. She has also helped many leading US and Canadian companies integrate their systems with HACCP and GFSI requirements.

Mouse Over To Share