The GLOBALG.A.P. – Weeding Out the Roots of Contamination
Today's agriculture industry is complex and globalized and when contamination occurs, it's hard to track the source.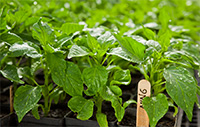 This was highlighted by the 2011 E. coli outbreak in Europe. Authorities mistakenly implicated a number of countries and products, inadvertently hurting farmers' livelihoods. Eventually, contaminated sprouts in Germany were identified as the main source of the outbreak. In total, 3,950 people were affected and 53 died.
At the consumer level, education to prevent food borne illness focuses mainly on meat. This makes sense: for the most part, raw meat is an area where consumers have more control. Packaging prevents contact with our hands, and we take care to avoid cross-contamination in the kitchen. We cook meat to a safe temperature, so if any harmful bacteria did sneak in, it's killed off before we eat it.
With produce, we handle it in the store and place it on our counter, cutting board, or among other foods in our vegetable crisper. Even if we wash our produce with an antimicrobial wash, any bacteria that's present has entered the kitchen, and could make us ill.
To preserve our confidence in the safety of fruits and vegetables, therefore, it's important to focus on prevention. And that's why the agricultural sector, like other parts of the food industry, is working to understand and manage the risks. One initiative that is gaining momentum these days is GLOBALG.A.P.
GLOBALG.A.P. – Modern Food Safety for Agriculture
The Euro-Retailer Produce Working Group founded the GLOBALG.A.P. more than a decade before the 2011 outbreak. They wanted to develop a standard to address growing concerns about safety, environmental impact, and the health, safety and welfare of workers and animals on the farm, and it's now considered one of the world's leading farm assurance programs. The GAP in the group's name stands for Good Agricultural Practices, a common acronym in the food industry.
GLOBALG.A.P. sets voluntary standards for food safety certification of agricultural products around the world, and sustainability is a high value for the group. The group's mission is to connect farmers and brand owners world-wide in the production and marketing of safe food. And it holds itself to high levels of integrity and the inclusion of all cultures and traditions.
An example of their approach is G.A.P. in Action, a series of instructional posters available free of charge online. A picture speaks a thousand words, and helps bridge the gap between cultures or languages, an important part of food safety culture.
GLOBALG.A.P. in Your Region
Each year, GLOBALG.A.P. holds an international tour to share their latest innovations and tools for change. Contact them to explore opportunities to participate in an event in your area.
About the Author
Allison Gallant is a regular freelance writer and blogger with Global Food Safety Resource and she is also one of our most valuable and recognizable contributors.
Interested in more articles like this? Visit GFSR's web site today!

Mouse Over To Share