Education and Technology: Incubators for Improving Food Safety in China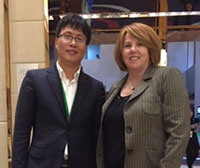 Ask anyone in the grocery aisle what their thoughts are on purchasing food products in China and you'll get an earful. Ask Chinese nationals what they think of their own food products and you'll learn that they have an even deeper mistrust of the food that originates in China. Unfortunately, that's all they've got.
Recently I attended the 9th China International Food Safety Conference + Expo (CIFSQ 15) to observe, learn and network with other food professionals who seek to collaborate and usher in a new strategy for improving food safety in China.
The event itself was impressive and well organized with an estimated 500+ food professionals who attended to listen to the world's leading food safety experts from China, Europe, Australia, the United States and Canada. They all came to discuss key issues facing China, while exploring viable solutions and prioritizing the need for capacity building. Chen Xu, Deputy Director General, Department of Policy and Legislation, China Food & Drug Administration, outlined the latest innovations in the food safety system and provided an explanation of the new Food Safety Law, enacted on Oct. 15th, 2015. This law is seen as an important step for restoring confidence in China's food safety system. Its new system comprises just two regulatory bodies: the Ministry of Agriculture for all agricultural products; and the China Food and Drug Administration (CFDA). The State Council of Food Safety Committee will coordinate and supervise the cross-department efforts, draft new food safety strategies and review the legal system to ensure it's up to date. Meanwhile, the National Health and Family Planning Commission will be in charge of setting national food safety standards and assessing the risks.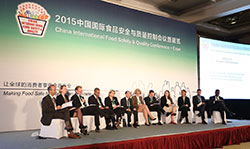 One of the first questions I was asked by an attendee at the conference was "what did Canadians think of China's food safety?" They wanted an honest opinion so I gave it. What surprised me was how much they distrusted their own food supply, even pointing out that "marks" that guarantee the quality of a product cannot be trusted in China. They expressed a great deal of concern about the food they eat and were very welcoming of experts who came armed with knowledge, insight and solutions. I learned that the demand for online shopping in China is growing at an astonishing rate, especially the purchase of clothing and food from online retailers that seem to offer more choice and convenience; food purchases accounted for $5.22 billion in sales in 2014.
According to a report from management consultancy Mckinsey, 40% of Chinese consumers buy food online, in contrast to just 10% of their counterparts in the U.S., where the weekly ritual of driving to the suburban supermarket has been ingrained in consumers for decades. The speed with which the Chinese are adopting mobile technology to buy groceries online has caught traditional retailers off guard, according to Alizila.com.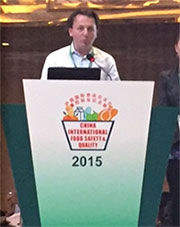 As this trend for online grocery shopping continues, new food safety amendments require that new articles be added to clarify the liabilities of shopping platforms. E-commerce platforms are required to register the real identity of vendors and check their certificates. Australian tech company, Authenticateit, shared a presentation at the CIFSQ 15 about its global traceability platform and authentication services.
Authenticateit recently inked a deal with the third largest e-commerce site in China, DHGate, to authenticate the goods of its sellers. Authenticateit not only validates the authenticity of food products but also provides consumers with the latest technology to trace the product from farm to fork, provide recall alerts, nutritional content and more. According to Gennady Volchek, C.E.O. of Authenticateit "the software has already demonstrated its effectiveness in the dairy, meat, infant formula, clothing, footwear and luxury goods sectors."
With plans to open an office in China in 2016, Authenticateit has already set up a technical presence there with a cloud cluster on Amazon China. Gennady envisions "this will not only improve the consumer experience within China, but also ensures that data related to Chinese brands is physically held in that country, which provides these brands with greater confidence." He goes on to say, "For the first time, buyers purchasing from China are guaranteed that the products they're purchasing are 100% authentic. Buyer confidence has a direct effect on sales, and this partnership is another example of DHGate's investment to maintain market leadership and reward partner loyalty."
Through my first trip to China I was encouraged to see they are finally taking action to counter the country's reputation for questionable food safety practices, including issues related to food fraud, lack of traceability and heavy use of pesticides, to name a few. Through the new amendments China hopes to improve its reputation globally and instill consumer confidence in domestic products, which is at an all-time low. According to an article in the ChinaDaily.com.cn, research conducted by the Chinese Food and Drug Administration found that 48% of people surveyed in 2014 said they were concerned about food safety in China, compared to 29.7% who were surveyed in 2012. An astounding 74.7%said they had no confidence that food safety in China would improve in the future, either.
The new law puts a new burden of responsibility on everyone who handles food from farm to plate, including food stalls. In essence, it means:
– bigger fines for producers, up to 30 times the value of their products; consumers can demand reparations of three times any loss they suffer due to eating substandard food
-increased jail time for would-be criminals who adulterate food products with inedible substances
-penalties for landlords who knowingly turn a blind eye to illegal activities involving food
-penalties or criminal charges for regulators who fail in their duty to protect the public or participate in cover ups and
-tougher regulations on infant formula production to restore public confidence in the domestic dairy industry.
Being in China for this important conference changed my perspective on food safety in China and its ability to reform itself. The companies that attended the conference care deeply about food safety, like most of the food professionals I meet at the many western conferences I attend. They know they have a long way to go towards restoring consumer confidence, both at home and abroad, in order to remain competitive in a global marketplace. Events like the CIFSQ have become a gateway for learning and finding solutions to overcome the challenges that has consumers both inside and outside of the country concerned about food safety in China.
China is notoriously known for its firewall, which keeps outside technology companies from operating in China. It hasn't stopped the tech sector from growing in China. It's my observation that new technology being applied within China can not only provide some measure of traceability and authenticity from a food safety standpoint but could be the incubator for reforming their entire food safety system.
About the Author
Tina Brillinger is President and Founder of GFSR, an organization that aims to be a trusted facilitator of food safety-related information and resources for people within the global food community.
Interested in more articles like this? Visit GFSR's web site today!

Mouse Over To Share