Mobile Forensic Testing Labs: Meeting the Need for Faster Response
Time is of the essence when a food-related incident is brewing and our standard mechanisms for response are not doing us any favours. Sudden and widespread outbreaks of food-borne pathogens are often characterized by delays in collecting good samples, shipping these perishable samples, extracting and testing them, and then reporting back with the results. In the United States, at least, state testing labs become overwhelmed when thousands of samples are sent in for testing.  It can take weeks to discover what's been happening, where and when, and then find a way to mitigate the event.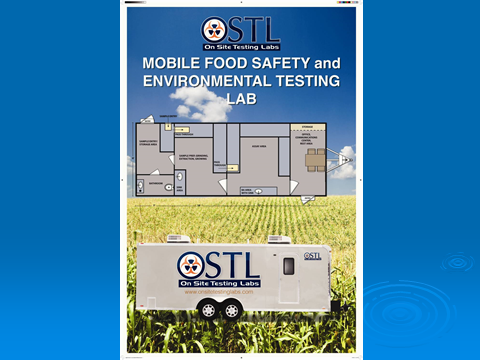 According to the World Health Organization, a total of 31 food-borne hazards cause diseases which result in about 600 million illnesses worldwide (one in every 10 people on the planet) and 420,000 deaths every year. Almost one-third of the people who die are children under the age of five.
Common culprits in most cases include Campylobacter, Salmonella, E.coli, typhoid fever, hepatitis A, Taneia solium (a tapeworm) and aflatoxin (produced by mould on grain that is improperly stored)
Food-borne illness outbreaks present frustrating and potentially life-threatening situations and response time is a key factor in limiting the devastation these terrible diseases can unleash. With decades spent investigating the intricacies of molecular biology, diagnostic testing protocols and the relationship between technology and pathogens, among other vital subjects, I set the task of developing a mobile, self-contained "forensic-like" lab that can be relocated to any place testing is needed and run all the tests used in central testing labs.  These inexpensive, tow-behind testing labs are self-contained, and can handle human pathogens in a multi-compartmented lab with separate HVAC units (BSL2 qualified).
While we're still developing the prototype, and the machines are not yet commercially available, the unit we're working with permits real-time data collection and reporting via satellite communication systems. Certified inspectors and technicians utilize off-the-shelf, validated, test kits and the design includes pass-through sample processing units that screen samples for hard radiation, real time; we've also included scintillation counters for soft radiation detection of contaminated food or to defend against agroterrorists.  A specialized incubator has been designed to grow pathogenic organisms under containment for subsequent testing as well.
A fleet of 1,000 such testing labs could easily run 500,000 tests a day, onsite, providing immediate feedback and mitigation to contain or decontaminate. The benefits would accrue through countless lives saved, a reduction in spoilage, and the advantages of being able to certify food as pathogen-free thereby issuing a certificate immediately.  The savings would be enormous.
We still have a way to go in order to raise enough capital to bring the product to market. But the technology exists, now, and we hope it will be just a matter of time before this solution is widely available in a commercial application.
About the Author
Dr. Bohannon received his PhD in Molecular Virology from Baylor College of Medicine and has developed over 200 assays for biowarfare agents, plant pathogens/GMOs, veterinary pathogens, and human pathogens…including the development of the HIV point of care saliva test (OraQuick® for OraSure Technologies), Sure Screen® drug of abuse assays for MedTox (now Lab Corp), OncALert® oral cancer point of care test, and many others.  Dr. Bohannon started On Site Testing Labs of Elkhart, IN.  (www.onsitetestinglabs.com)
Interested in more articles like this? Visit GFSR's web site today!

Mouse Over To Share