Avoid Losing Food Safety Audit Points with This Simple Strategy
By Joan Martino
Ever wonder where you lost all those points on a third-party food safety audit or assessment? An auditor may probe different aspects of your operations with various questions. They are trying to make a connection between your practices and the requirements in the Standard for which they are auditing. If your first response is something like "Oh, we don't have that," they may assume that there are gaps in other areas, as well.
Most business functions are aligned in some way to facilitate day-to-day operations and fulfill orders for customers. The process flow, from order entry to shipping, may vary based on the complexity of the business, however, the integration of business functions is synonymous to success.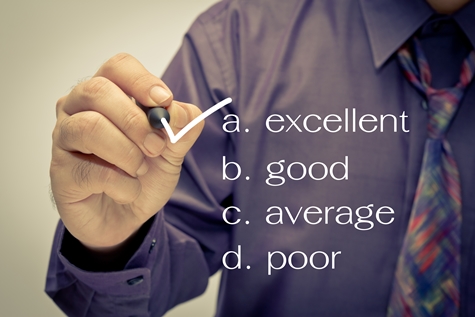 It is already established that food safety must be an integral part of any business strategy. Understanding and aligning various functions of the business demonstrates cohesive practices and strength in all systems working toward a common goal.
Let's consider the aspect of supplier performance. The sourcing of ingredients, materials and various supplies to conduct business is usually the function of a procurement or purchasing specialist. A food safety auditor will scrutinize your methods for ensuring materials and services that affect product safety, quality and legality conform to prescribed requirements. You may be asked if you conduct supplier performance and risk assessments, maintain documentation for specifications, incoming inspections, sampling, testing, corrective actions, and more. Before you answer"no," it may be important to align your audit preparation with other departments that participate in some of these requirements, even if indirectly.
Here is a short example of how one food manufacturer aligned the cross-functional practices within their organization to support the food safety audit requirements from a raw material supplier.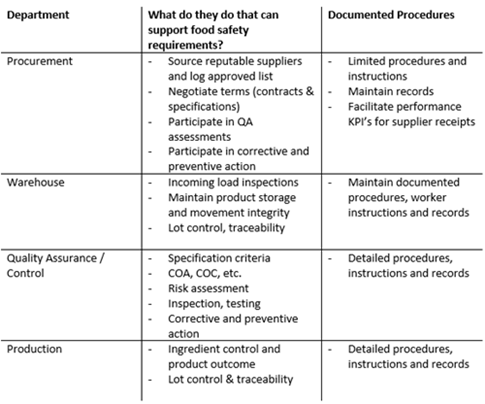 Tying the various pieces of the puzzle together is what successful business is all about. Learning how to leverage other functional areas and demonstrating this in a time-bound audit assessment is the mastery of preparation.
Consider using a spreadsheet to map the various areas that participate in the success of your operations. Try not to lose consideration during an audit for something you think you don't have.
About the Author
Joan Martino is CEO of Quality Supply Chain, a company that provides simplified solutions to address regulatory compliance, supply chain initiatives and audit requirements for multiple industry sectors including food manufacturers, hospitality, retail, warehousing, packaging and equipment suppliers. She has also helped many leading US and Canadian companies integrate their systems with HACCP and GFSI requirements.

Mouse Over To Share