Communicating for Food Safety: Seven Steps on the Ladder to Success
By Joan Martino
Some would agree that 90% of a manager's job is communicating, yet many managers fail to take the time to plan for proper communications. It's a big job. Yet it can make all the difference in effectively resolving food safety problems.
Communication is a process and this is how it works:

An effective communications plan should engage stakeholders in a reliable and timely manner so they can participate in or be informed of business-related decisions. Stakeholders are both internal and external and in the food supply chain, they are also often internationally focused
Various types of communication plans may be developed in the food industry to address food safety hazards, recall emergencies, risk management, business continuity, press and media releases, and more.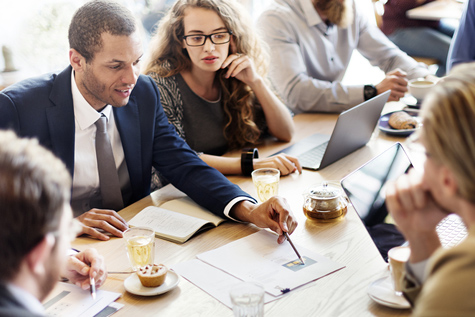 Here are seven questions you might want to consider when developing a communication plan:
1. What communication do your stakeholders require?
Establishing a purpose will help prioritize the time needed to prepare the information. Recognize the stakeholders, put yourself in their shoes and ask, "what do they need to know?"
2. What content, format and required details should be included?
Does a recipient expect a formal documented report or is a summarized e-mail sufficient?
3. Who will receive the information and who will produce the information?
There is often more than one person involved. Assigning a task and follow-through helps get the job done.
4.  How is the information conveyed?
There are so many ways to deliver information, whether through a documented report, e-mail, collaboration forums, and more. There is no point in pushing information to a recipient in a format they are unable to decipher or will not respond to.
5. What frequency of communication is desirable?
Daily, weekly, monthly? Sending information with no value for the sake of meeting a schedule may be redundant, causing the recipient to ignore messages and perhaps miss important details.
6. What are the escalation procedures for resolving issues?
It's easy to hit the "send" button on an e-mail and pretend the matter is off your plate. In reality, ownership and responsibility should be established to ensure timely decisions are made.
7.  Is there a procedure for revising and updating the plan?
As with all good program procedures, an effectiveness and suitability review is periodically necessary to keep things current.
Finally, developing good communication skills is just as important as having a plan. Active listening, feedback and body language provide confirmation that messages have been understood. Verbal and non-verbal communication is a learned skill we must continually refine. Great communicators can usually adapt to people and situations, however most of us do need practice!
---
About the Author
Joan Martino is CEO of Quality Supply Chain, a company that provides simplified solutions to address regulatory compliance, supply chain initiatives and audit requirements for multiple industry sectors including food manufacturers, hospitality, retail, warehousing, packaging and equipment suppliers. She has also helped many leading US and Canadian companies integrate their systems with HACCP and GFSI requirements.

Mouse Over To Share