Can I Have That in Writing?
According to the International Data Corporation (IDC) three out of four companies surveyed experienced Risk/Compliance incidents due to document process failures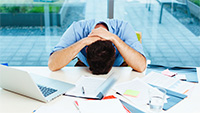 So is it the procedure or the process that is broken? In some cases, it is both. The bottom line is that the costs related to poorly-driven processes and documentation are staggering and they place a business in serious risk for compliance-related incidents. Not only do they invite the cost of litigation and fines, but they are also just inefficient in terms of daily operations. Standard Operating Procedures (SOPs) demonstrate good planning and control within a company and they represent a formalized method for handling operational activities.
Other Advantages
Well-written procedures usually take the guesswork out of an individual's approach, improving quality and speed for decision-making in key areas. SOPs provide for a systematic process and a library of company-wide best practices and operating procedures.
Procedures provide an audit trail when a dispute or external investigation occurs and it becomes necessary to prove that correct procedures were followed and records were properly maintained. An SOP provides a checklist for actions and can be effectively incorporated into employee training.
Disadvantages
Too much detail, and extending coverage to even minor aspects of work, can restrict an individual's ability to make decisions and it may create a bureaucratic management style. Maintaining and reviewing standard operating procedures is also time consuming and information may become obsolete. Employees will often overlook the advantages of using SOPs as a management tool.
Key Characteristics of a Good SOP
– It demonstrates benefits to the employee in improving and simplifying job performance
– It provides a framework for comprehensive decision-making and is utilized company-wide
– It is easily and rapidly accessible to all employees
– The role and importance of the SOP can be easily and clearly demonstrated
– The SOP leads to action and record keeping
– It is part of employee training and development and knowledge testing
Once a decision is made to utilize SOPs there should be a method for managing the process, including: creating, authoring, authorizing, verifying, copying, communicating changes, reviewing, etc. The process can be complicated – but it is always worth the effort!
About the Author
Joan Martino is CEO of Quality Supply Chain, a company that provides simplified solutions to address regulatory compliance, supply chain initiatives and audit requirements for multiple industry sectors including food manufacturers, hospitality, retail, warehousing, packaging and equipment suppliers. She has also helped many leading US and Canadian companies integrate their systems with HACCP and GFSI requirements.
Interested in more articles like this? Visit GFSR's web site today!

Mouse Over To Share