Recall Standards for Food Provide Efficiency, Accuracy and Transparency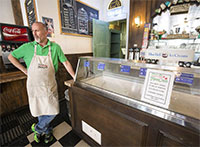 Food product recalls have been in the spotlight increasingly of late, and when ice-cream from Texas-based Blue Bell Creameries was linked to 10 listeria-related illnesses that led to three deaths, many people took note. Experts determined that the listeria outbreak may have begun as far back as 2010.
The impact of any food recall represents significant and often avoidable expense that can harm a manufacturer's financial health and garner negative media attention. The impact of product recalls and the challenges a company can potentially face in the wake of a recall can include:
* Loss of life
* Weakening industry trust
* Damage to corporate and brand reputations
* Advantages for competitors
* Loss of consumer confidence
All of these can be difficult to overcome, and it can take years to restore lost client and customer goodwill.
The listeriosis-related recall at Blue Bell Creameries, for example, forced the company into a restructuring that has seen 750 employees (37% of the workforce) lose their jobs.
Once again there are calls for improved collaboration and a standardized methodology across industry to address the growing incidence and impact of food product recalls. Ice cream is just one of countless high profile recalls we`ve seen lately: raw tuna sushi, apple slices, fresh pasta and home canned potatoes from a potluck show the variety of foods that might trigger a recall and they also point to the challenges associated with the lack of standardized traceability and recall processes.
To ensure that your company is compliant, we thought it might be a good idea to put together the following quick and easy guide to the issues that might interfere with prompt and effective handling of a food recall. These issues include:
* Creeping Discovery (where the scope of the recall is increasingly broadened over time)
* Sub-optimal notification processes
* Inaccurate and incomplete announcements
* Inability to identify changes & extensions to recalls
* Failure to validate product removal from the supply chain or store shelf
* Lack of an audit trail
There is a way forward using global standards. Significant progress has been made by industry since 2008 in the development of the first process standard for product recall.
When it comes to food recalls, food safety standards and regulations are usually non-prescriptive and define "what" needs to occur in the event of a recall.
But the dilemma facing industry has been the "how to." To this end, industry commissioned the global not-for-profit supply chain standards association, GS1, to create the first industry recall standards for food that would lend efficiency, accuracy and transparency to the recall process.
The standard took close to four years to develop and was based on industry inputs from more than 30 countries. It was ratified in 2012.  An accompanying implementation guide walks companies through the specific steps and actions to be taken during a national or international product recall.
Food businesses can also leverage food recall portals to monitor and execute a food recall.
Greater oversight is required to ensure food companies are compliant when it comes to food standards, however. With the pending Food Safety Modernization Act (FSMA) and Safe Food Act for Canadians about to roll out, companies need to ensure their processes meet the new standards to avoid triggering a recall related to cross contamination or undeclared allergens. The field is evolving and there will undoubtedly be more standards to meet as time goes on. Stay tuned!
About the Author
Susan Crossman is Global Food Safety Resource's managing editor.
Interested in more articles like this? Visit GFSR's web site today!

Mouse Over To Share