Does Your Food Safety Software Offer Solutions?
By Steven Burton
It wasn't so long ago that the "technology" standard for the industry amounted to nothing more than a shelf of paper binders. Today, the range and quality of technology solutions is wide enough that most people don't know what to look for, or what makes one solution stand out in comparison to another. So what makes the difference when it comes to food safety technology?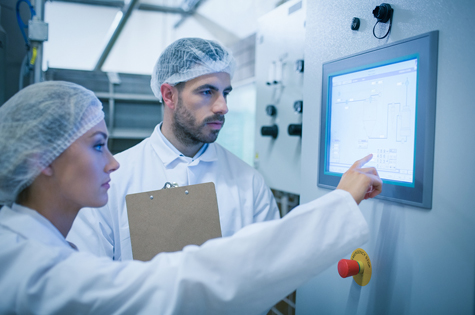 Does the Software Automatically Generate HACCP Plans?
Today's demands from both regulators and retailers means that food businesses must have a comprehensive HACCP plan in place. But there's a big difference between a solution that helps you store and organize documents and one that actually generates a food safety plan. Most software solutions do the former; they chuck out the paper binders and set you up in a secure, accessible cloud environment. This is great, but is it enough?
The answer is no. A food safety software solution should do more than manage documents. A good system will allow you to build your HACCP plan in a way that reflects your actual business processes. One way to tell if the software is up to the task is to ask: Are hazards and hazard controls attached to ingredients, products, packaging, etc. or are they attached to the HACCP plan itself? If the latter, the solution is merely digitizing those dusty binders. If the former, your HACCP plan will do much more than just tick boxes for inspectors, but actually be able to automate food safety. You will have the flexibility to mix and match products in different HACCP plans, and if any changes to your products come down the road, you won't need to start from scratch.
How Quickly Can We Get Set Up?
What differentiates a good solution from a great automation solution is how the software leverages intelligent technologies to save you time and money. If you have identical or nearly identical products, do you have to control the same hazards over and over? Or is the system smart enough to reuse the work you've already done?
A great automation system will go further, using predictive algorithms to give you smart suggestions through data mining technology. This type of feature can save you a ton of time by suggesting the appropriate biological, chemical, physical, and radiological hazards according to the data provided instead of making you search through hundreds of sources online.
While automation makes things easier and faster in the long-term, you have spent some time getting set up. Take the time to ask what else your food safety system can do for you. Not all
high-level solutions are out of reach for small and mid-sized companies, either, so with a commitment to food safety and the right questions, you can make the change for the better.
---
About the Author
Steven Burton is an innovative software architect and the creator of the award-winning food production management system, Icicle. Through the development of advanced food safety technology based on over a decade of sophisticated software development expertise, Burton has taken Icicle beyond document management and food safety to offer a complete solution for smart automation, improving quality standards, production efficiency, and expanding growth opportunities for all types of food businesses.

Mouse Over To Share