Graduate Programs in Food Safety: Four Factors to Consider Before You Enroll
By Dr. Darin Detwiler
The education of food safety professionals is an issue that is of increasing importance and graduate programs in food regulatory compliance are in high demand. This stands to reason: current estimates place employment in the food industry related to regulatory compliance (safety, fraud, and security jobs) at more than 20 million, or more than 11 percent of total U.S. employment. What's more, the number of qualified professionals in this field is projected to grow.
So, how does someone who is interested in a graduate program related to food regulatory compliance determine which one is most suitable? Here are four attributes to consider: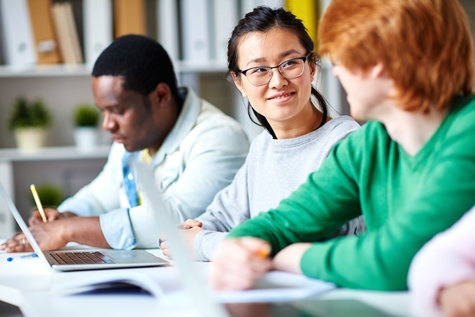 1. Integrated Studies – Does the program allow students to take courses pertaining to related fields (perhaps in concentrations or electives), such as nutrition, analytics, homeland security, global studies, and project management? While this may seem a bit odd for a program to allow, the reality is that most positions in the food safety field demand applicants with skills from these different disciplines.
2. Corporate Social Responsibility and Ethics: Does the program focus on a balanced approach to looking at compliance beyond simply laws, policies, and economics? Ultimately, the work of food compliance specialists contributes directly to the health and well-being of consumers. Food policy is more than simply a concern over food safety. Today, experts are dealing with issues around quality (look, smell, and taste), safety (biological, physical, and chemical contaminants), authenticity (tampering, overrun, adulteration, counterfeiting, etc.), defense (industrial sabotage, bioterrorism, and economically motivated adulteration), and security (sustainability, nutritional value, and access). While these may seem like completely different concerns, the overlaps sit right at the forefront of concern for most compliance specialists.
3. Experiential Learning and a Focus on Cultural Agility/Global View: Will this program enable students to interact with a variety of diverse stakeholders from different cultural backgrounds, thus improving cultural awareness and broadening perspectives? As food safety professionals work cross-functionally with many groups—from employees to regulatory organizations, and even health authorities—effective cross-cultural communication and the ability to work with diverse stakeholders is essential. Furthermore, today's food supply system is vastly more global than ever before. Spices and ingredients are sourced from around the world for the local market, while local resources are also prepared, packaged, and shipped to consumers in other countries.
4. Program Credibility: Do the instructors have a deep understanding of the regulatory landscape? Beyond knowledge of food safety policy, the faculty should be recognized for their industry experience, publications, and leadership (including involvement in professional organizations and presentations at major conferences.)
Graduates ultimately want to be capable of helping an organization achieve compliance, thus it's critical that a graduate school help them achieve a broad and comprehensive understanding of the regulatory environment. Food safety is a complex subject and it's getting more so all the time; food safety professionals need the food safety training and education that will help them take on the important responsibility of helping keep food safe.
About the Author
Dr. Darin Detwiler is the Assistant Dean of Academic and Faculty Affairs at Northeastern University's College of Professional Studies in Boston, MA.  He is a professor of food policy and regulatory compliance.  In addition to being Founder and President of Detwiler Consulting Group, LLC, Dr. Detwiler serves as the Chief Regulatory Officer of the International Food Authenticity Assurance Organization and on numerous committees, editorial boards, and advisory panels related to food science, nutrition, fraud, and policy.  He is a sought-after speaker on key issues in food policy at corporate and regulatory training events, as well as national and international events.  Dr. Detwiler holds a Doctorate in Law and Policy and is the recipient of IAFP's 2018 Distinguished Service Award.

Mouse Over To Share