COVID-19 Could Drive Food Safety Culture Improvements
By Brita Ball
The coronavirus pandemic has created the possibility for an unexpected lesson for food industry leaders. According to Lone Jespersen, principal consultant at Cultivate Food Safety, firms can use this as an opportunity to advance their food safety culture faster than at any other time.
"There has never been such a clear understanding across a broad spectrum about risk, especially risk around something we can't see," Jespersen says. Companies in which "leadership has decided that COVID-19 is a real risk" have established a clear path to deal with it, involving middle management and supervisors to take ownership of the problem.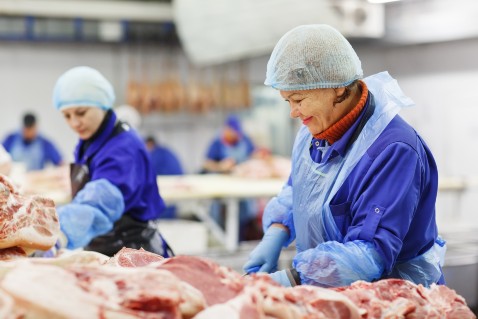 As seen in the outbreaks in the meat industry, when leaders "assume that invisible risks can be managed by a small number of people, things can go terribly wrong," says Jespersen.
More than 5,000 COVID-19 cases in 20 states in the United States of America in April have been tied to meat processing plants. In fact, some companies are being investigated for allegedly lacking mitigation strategies for employee health and safety. In early May 58% of the workers in one U.S. meat packing plant had tested positive for the virus. At the same time, the largest COVID-19 outbreak in Canada was at a processor where 46% of the 2000 employees tested positive. Case numbers at meat plants in both countries are increasing.
Some companies are managing the crisis well, says Paul Medeiros, Managing Director of Consulting, Technical & Retail Audit Services, North America at NSF International. He says that in these businesses "risk management or quality assurance departments are working hand-in-hand with human resources" as well as occupational health and safety leaders to protect both products and personnel.
Quality assurance professionals in some operations have also become crisis managers and are being "seen as heroes," says Medeiros. Due to the pandemic, these individuals are able to maintain or even increase their credibility because they have the skills to "walk the plants through steps to mitigate [disease] risk" that is similar to food safety risk.
In other operations, safety professionals have taken the crisis lead. Jespersen would love to see a greater level of collaboration between occupational health and food safety professionals in the long term. This is because both have the mindset for managing risks related to hazards and employee behavior in similar ways.
The COVID-19 situation has given senior leaders a good reason to direct the managers and supervisors in all departments to take specific actions to mitigate coronavirus risk. For example, conversations about the importance of hand hygiene that had been a food safety focus are now relevant to worker health overall. Hand hygiene enforcement is "now about saving employee lives," says Jespersen.
Firms with strong, positive food safety cultures that have decided to manage the COVID-19 risk are also the ones Jespersen says "have sent people home with pay checks… and actually looked into what to do to keep people safe in the workplace" before anyone needed to.
"The increased effort on mitigating risk related to COVID-19 can only be a good thing for food safety," says Medeiros. But he cautions that firms remaining focused on production will take shortcuts on training, employing temporary workers and accessing alternate suppliers during these times. "Culture, either way, is helping to advance or hurt" the focus on food safety.
If crisis-driven collaboration ends when the situation normalizes, the opportunity to advance food safety culture would be lost. Moving forward, to create a real shift in food safety culture from COVID mitigation, Jespersen says that business leaders will need to ensure that food safety is a priority at the strategic business risk management level.
Before coronavirus, many Chief Executive Officers and other c-suite leaders did not "understand the impact of an invisible risk," says Jespersen. She would like to see companies elevate both occupational health and safety and food safety to the boardroom where senior leadership assess risks to their businesses "ongoingly and proactively."
Not many firms include food safety in enterprise-level risk discussions. Jespersen believes that if senior leadership can transfer COVID-19 learnings to food safety risk they could come out "with a vastly improved food safety culture."
About the Author
Brita Ball, PhD, CTDP, ECPC, supports food businesses wanting to improve their culture of food safety, training and bottom line. She is a food safety and training specialist, principal consultant and coach at Brita Ball & Associates, and Past-chair of the Food Safety Education professional development group for the International Association for Food Protection. Brita is a regular contributor and an Industry Advisor to Global Food Safety Resource.

Mouse Over To Share