How Modernization Drives Regulations (for the Better)
By Alexandra Emanuelli
The regulatory landscape has shifted a great deal in the past 100 years, from the very creation of the FDA in 1906 to the continual shifting to stay abreast of new and evolving threats that impacts global food supply chains. The most recent blueprint released by the FDA, its New Era of Smarter Food Safety, tackles many timely issues, including that of traceability and modernization. These two topics have become especially pressing over the past five years due to the way we shop, eat and move food and beverage products.
Technology has helped usher in the rapid modernization with the advent ofy blockchain traceability needed to protect our food supply, with this regulatory bodies now must keep up with the evolving technology and work more collaboratively with the private sector. Even before the pandemic, the move towards online shopping for groceries, take-out and speciality food items had been increasing due to the rise of Amazon and quick shipping services. When governments began locking down in an attempt to slow the spread of the COVID-19, people around the world shifted their buying patterns in order to prevent contact with other potentially infected individuals. Instead of heading to the supermarket, we hopped onto our computers. Instead of heading out to have a nice meal, we ordered in. Small restaurants and catering businesses have had to shift in order to ensure that they transport food safely and quickly, in larger quantities than ever before, while also working under the already difficult circumstances of navigating the pandemic. While many producers and manufacturers were already shipping directly to consumers, the demand is ever growing.
As we've written about in the past, the move from the manual documentation of processes to digitization is a major, and important, trend of the moment. Digitization isn't simply a move from stacks of old files in dusty binders to the computer. Reducing human error through sensors, monitoring systems, IoT and blockchain can be that extra set of "eyes" to prevent a major outbreak. Adding these technological additions to a process could be the extra step necessary to ensure food safety risks are minimized can be addressed real time and ensuring products are more easily traced along the supply chain.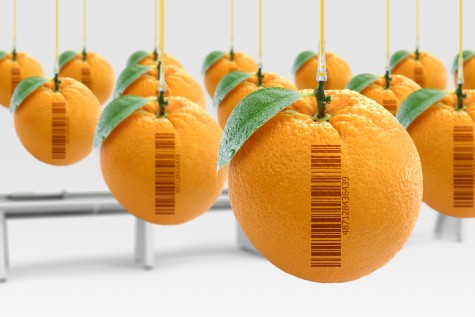 Further developments we can expect on the front of traceability include QR codes and DNA barcodes that allow consumers to follow a product's journey, enhancing transparency at the same time as providing a solid system of checks and balances. SafeTraces, a seaweed-based barcode, can be applied to all food and beverage products and is recognized as food safe by the FDA. This edible barcode is the next frontier in traceability, it includes unique information on products and batches, meaning that if a recall was to occur, all the information would be instantly accessible, and consumers could be quickly informed.
Technological advancements will be a simple and effective means for ensuring that manufacturers comply with regulations to protect consumers and their brands.
The next frontier for food safety compliance is on our doorstep.
About the Author:
Alexandra Emanuelli is the Digital Content Editor for Global Food Safety Resource. She has been writing and editing in the field for the past seven years, and her previous contributions include publications such as AllRecipes, Huffington Post and Clean Eating Magazine.

Mouse Over To Share