Air Management Critical for Safe Food Production
By Jaan Koel
Air as an ingredient in food? Some would say "absolutely it is!" In fact, one stream of thought promotes the idea that air, like every raw material, additive, spice, and even food packaging, should be considered an ingredient in its own right, and subject to just as much care and concern as a result. Here's some additional input from experts GFSR canvassed on the topic:
• "Air is an ingredient that should be monitored and controlled like any other ingredient," says Mark Davidson, Food and Beverage Segment Manager at Comfil Inc. His company produces air filters and clean air systems out of Des Peres, MD.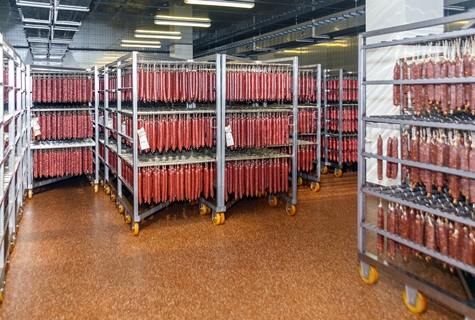 "Impurities in the air can be measured, air filters selected to remove those impurities, and techniques developed to confirm ongoing compliance in accordance with FSMA," he says.
• Michael Follmer, VP Senior Project Architect at Hixson Architecture & Engineering in Cincinatti, OH, notes that FSMA has made it more important than ever for processers to pay attention to air filtration: "(They) must monitor, validate and verify that everything is working as designed and intended to prevent food safety risks," he says. "For air systems, this starts with properly designed, detailed, and constructed air equipment that can provide six fundamental elements: air changes, filtration, air balance, pressurization, temperature, and humidity."
• The air from kill floors and rendering areas, where raw poultry and meat are handled, must never flow to areas such as packaging, where airborne bacteria could infect the final product, notes Todd Allsup, VP Food and Beverage Facilities at Stellar Inc. of Jacksonville, FL.
"Consider the direction and frequency of airflow," he says. "…The pressurization between areas in a plant should enable air always to move in the opposite direction of product flow, from most hygienic to least hygienic–from final packaging to raw material reception."
Follmer says there are differences in various food plant requirements that affect system design: meat products tend to be handled more and require lower temperatures and more air changes (15 to 25 air changes per hour) than fluid milk or beverages that are mostly in a closed system (10 to 15 changes per hour).
"The combination of colder room temperatures and high water temperatures result in fog during cleanup, which may necessitate exhaust, purge, advanced filtration, and dehumidification to be included as part of the air handling and filtration system," he adds.
Air management is a key issue that has big implications for food safety. As an "ingredient" in the food you produce, it's never too late to review your systems for handling it, and ensure you're meeting compliance as effectively as possible.
About the Author
Jaan Koel is a respected food safety writer with a substantial portfolio developed over many years of front line writing experience. He began contributing to GFSR six years ago and is a regular contributor to other industry leading business-to-business publications. Aside from his expertise in the area of article writing, he has developed a strong credibility writing in the areas of corporate communications, public relations, government communications and marketing.

Mouse Over To Share