Proper Hand Hygiene Includes Drying
Posted: Thursday, September 17, 2020 by Global Food Safety Resource
By Frederic Perreault
The COVID-19 pandemic has had a profound impact on the way we view hand hygiene, both within the food industry and beyond. As the virus spread across the globe earlier this year, we saw a significant rise in discussions about the importance of hand washing in stopping the spread of germs. While this is a crucial step in germ prevention, it is not the only one. Hand drying is just as critical to the hand hygiene process as hand washing yet hand washing, yet, is not nearly as widely discussed.
There may be a lack of understanding around a crucial component of hand hygiene, according to a recent poll conducted by Cascades PRO. The company found that while 84 % of Americans say it is important to wash your hands after using a public restroom, but only 48% prioritize hand drying after using a public restroom. To help educate the public and raise awareness of hand drying's role in stopping the spread of germs, the brand recently launched an educational campaign entitled, "Hand Hygiene is a Two-Step Process."
The Findings
These startling stats indicate that many may lack an understanding as to why this step is crucial in disease prevention and transmission. Research from the journal of Epidemiology & Infection has shown that bacteria are more easily transmitted from wet hands than dry hands. This means that after a person has washed their hands, any residual moisture left can continue to house germs and bacteria and contaminate the surfaces and people they touch.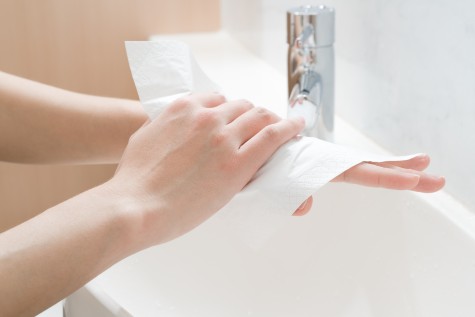 Studies, such as one from the University of Westminster, have also been done to identify the optimal method of drying hands and many have shown that paper towels get the job done better. Using paper towels removes moisture more quickly and efficiently than other drying methods. Furthermore, the friction caused by the towels allows for even further removal of microorganisms. It can also serve as a protective barrier from recontamination after hand washing when used to turn off faucets and open doors.
As we fight against the spread of COVID-19 and other types of viruses and infections, it is imperative that we continue raising awareness of the importance of both hand washing and hand drying to overall hand hygiene and germ prevention. Let's work together toward a safer, healthier future for all.
About the Author:
Frederic Perreault is the Director of Laboratory Services at Cascades Research & Development, the research center for Cascades, a leader in sustainable, innovative and value-added solutions for packaging, hygiene and recovery needs. Frederic started his career at Cascades in 2008 as a chemist involved in the development of innovative eco-friendly products, including fibre-based materials, packaging solutions, and paper hygiene solutions. Today, he manages a team of 45 multidisciplinary scientists who support 90 of Cascades production sites across North America.  

Mouse Over To Share