Improving Food Safety Affordably Through Smart Digital Technology
By Jacki Ross
The use of specialized food safety technology is just beginning to take root in the food industry. Many food operators think it's a great idea and can see the value but believe this type of tech is a luxury beyond their budget.
But can operators afford not to invest in food safety solutions?
Traditional food safety programs rely on manual labour to monitor and report on operational status. Unfortunately, those manual checks are often either done to a poor standard or not completed at all; additionally, it's impossible for manual checks to be done after business hours when staff is absent. It often falls to your manager to gather all the information, find missing logs, and file paperwork in case of audit. It's a lot of time, energy, and money spent on mundane tasks.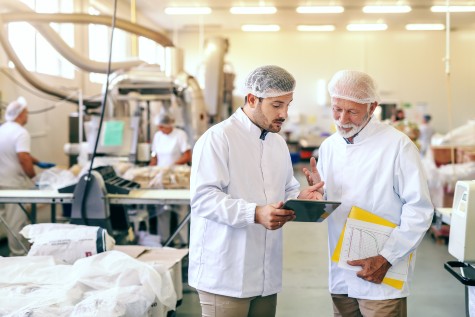 As a business owner, prioritizing both operational tasks and revenue-generating tasks is a balancing act. It's true that some responsibilities—especially customer service goals like lowering wait times and increasing satisfaction—can't be replaced with technology.
However, remaining uninformed about food safety risks is no longer feasible in today's industry, and ultimately you can't fix what you don't notice.
Digital monitoring technology can be a solution to challenges like these. An automated monitoring system tracks and logs appliance temperatures in real-time, alerting you by text or email if any temperature reaches a dangerous range. For example, if your cold storage door is left open too long during the day and your ingredients reach a dangerously warm temperature, you'll be instantly alerted to correct the problem. This could be a valuable asset in the prevention of recalls.
Using digital automated tracking not only gives you reliable, accurate information, but also easy access to logged data and reports on your mobile device. When and if an audit did occur, your information would be easily accessible and readily stored for whomever needed to view it. Further, it allows you to keep staff focused on revenue-generating tasks like excellent service rather than mundane manual checks.
Ultimately, the system's visibility into your operations will save you more than its cost to implement. Instead of costing you a premium for falsified or inaccurate information generated by manual checks, digital logs help you eliminate food waste and spoilage events and provide peace of mind when it comes to your food safety operations.
About the Author
Jacki Ross is Director of Marketing at blueRover Inc, a food safety solutions company that helps organizations gain visibility into food safety practices by automating and digitizing their operations. blueRover works with industry-leading companies in the food production, distribution, warehouse and retail markets to develop easy-to-use, efficient products designed specifically for the unique challenges of the food industry.

Mouse Over To Share