The Three Biggest Threats in the Global Food Chain: Provenance, Adulteration & Compliance
By J. Marcelo Gomez and John G. Keogh
Consumers are increasingly scrutinizing the provenance and authenticity of food, demanding more transparency and food safety compliance. And for good reason: food fraud is currently estimated to have a dollar value of USD $49 billion according to the Grocery Manufacturing Association (GMA). Food fraud is serious business with rogue traders and organized crime putting the health and wellbeing of innocent consumers at risk. In one incident alone, the United States Department of Justice sentenced the owner of a large commercial fishing firm to 46 months in prison for falsification of records and smuggling activities.
Intentional Substitution
Food fraud is typically driven by unscrupulous actors looking for economic gain. It includes the intentional substitution of a product or its ingredients for another of lower monetary value which is undeclared to trade partners or to the end consumer. This has been a problem of particular concern lately in the seafood industry where a recent Canadian seafood study found that only 22% of test samples were correctly declared in grocery stores and restaurants; meanwhile, 45% of test samples were incorrectly labeled and 33% were substituted with other species. The study found that sushi restaurants had the highest rate of substitution with white tuna being commonly substituted with escolar, a species that may cause severe gastrointestinal illness and place the health of consumers at risk.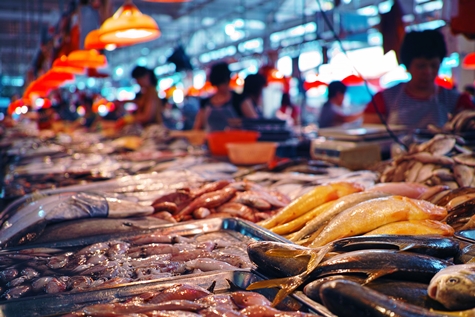 Seafood is traded globally using a complex web of supply chains that involves fishers, processors, distributors, and retailers. It is common for seafood to cross international borders multiple times as it is fished and then processed. The risk of contamination and the opportunity for various forms of economically motivated adulteration (EMA) such as substitution is increased with the addition of each new node in the supply chain.
Fish should be traceable to its source (provenance) and while several stakeholders have suggested solutions to labelling and traceability challenges, objective evidence for the authenticity and provenance of seafood and food safety compliance demonstrate that the success of these proposed solutions is questionable.
Improvements in Traceability
A recent initiative by the Canadian Food Inspection Agency (CFIA) led by the Biodiversity Institute of Ontario suggests improvements in traceability can be made using Deoxyribonucleic Acid (DNA) barcoding. The group's goal is to create a reference library for all species using a short sequence of genes. Access to this promising technology and catalogue should permit authentication of any species and assist with regulatory enforcement.
The private sector has made considerable progress in DNA barcoding, and some businesses are developing affordable and efficient solutions for the retail grocery sector and consumers.
In Vietnam, Hoan Vu analytical laboratory in Ho Chi Minh City and Australia's Source Certain in Perth are collaborating on best scientific practices to prove the authenticity and provenance of fish. The laboratories use a combination of technologies including isotope mass spectrometry and chemical fingerprinting technologies to verify the claim of provenance. DNA fingerprinting technologies can be used to verify the authenticity of fish species. Being able to tell whether a fish is farmed or wild-caught is possible with verification back to a specific source or farm routinely completed to a forensic level. Both laboratories recently announced that they are introducing GS1 standards into their laboratory operations, as well as blockchain technology, from Slovenia's Origin Trail, to add integrity to the supply chain. It is conceivable that retailers could one day receive relevant analytical laboratory test results and certification of authenticity and provenance directly from the laboratory using GS1 standards and blockchain technology. This would reduce the likelihood that a rogue trader might manipulate test results or provide fake scientific reports.
Food Safety Compliance
The responsibility for the integrity of our food chain (provenance, authenticity and food safety compliance) involves government agencies and all trade partners along the supply chain. Enhancing food chain integrity requires a comprehensive approach. Scientific evidence from analytical laboratories can be combined with industry standards and blockchain technologies, as well as supply chain mapping, vulnerability awareness and controls. Retailers are encouraged to engage with key stakeholders to ensure consumer protection and reduce food fraud risk. Food fraud is big business but the importance of ensuring safe and authentic food for consumers, in a way that is supported by scientific evidence, is paramount.
About the Authors:
Marcelo Gomez is the Managing Principal of Ensynk and Associates, a firm that provides operations and sustainable supply chain, research, and innovation advisory services to corporations and government agencies. He is a supply chain management professor and a sustainable development and social justice researcher.
John G. Keogh is the Managing Principal at supply chain advisory and research firm Shantalla Inc. He operates at the intersection of the public and private sectors globally and provides confidential advisory and research on strategy, technology, operations, and policy. He is the founding chairman of the Vietnam Food Integrity Centre in Ho Chi Minh City and a board advisor to Origin Trail.

Mouse Over To Share